"Acting in the interests of society every day", so goes "the reason to be" of Credit Agricole. We aim our constant efforts at putting it into life and reinforce it with concrete actions. The year 2020 has started with a new challenge for society – COVID-19 pandemic, which as early as in March switched lives of Ukrainians to the quarantine mode. Credit Agricole Bank accepted the challenge with dignity. Under the auspices of "We Care!" program, we continued to provide quick help to those who need it the most – medical institutions and their patients. Besides the charity, the Bank traditionally supports green initiatives and takes care of its employees.
Despite the hard times, we remain a socially responsible and reliable bank. Therefore, you can always rely on Credit Agricole! For detailed information on social projects of the Bank, see next.
Charity
In March, Credit Agricole with the support of "Your support" Fund purchased UAH 700 000 worth lung ventilator for Kyiv Clinical Hospital No. 17. We contribute to purchasing life-saving medical equipment because we believe that only by combining our efforts we can overcome the pandemic and its after-effects. And each ventilator will help save many lives.
In April, Credit Agricole Bank in partnership with Mastercard and with the support of "Your support" Fund purchased medical equipment totaling to UAH 1 100 000 for Ternopil Communal Children's Hospital and Kyiv Clinical Hospital No. 17. That money were spent on a defibrillator, patient monitors, pulseoxymeters, and IV infusion pumps helping to fight critical presentations of a decease.
In May, Credit Agricole with the support of "Your support" Fund purchased health care devices worth UAH 5 000 000 for comprehensive equipment of the intensive care unit in Chernivtsi Regional Hospital. Everything it requires for intensive care was purchased: defibrillator, fiber bronchoscope, portable ultrasound scanner, patient monitors (6 pc.), infusion pump, surgical bed (3 pc.), single-syringe (6 pc.) and dual-syringe (11 pc.) infusion pumps. This project ― is the biggest charity initiative realized during the entire history of Credit Agricole presence in Ukraine.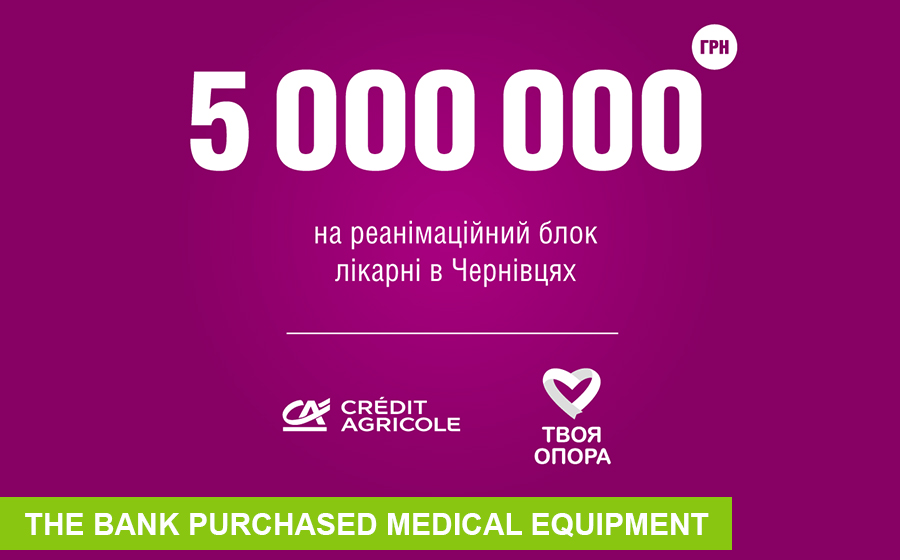 Taking care of employees
In mid-March, after the lockdown was placed in Ukraine, Credit Agricole Bank as a responsible employer made several pressing decisions by creating its manifest for employees as follows:
The Bank guarantees to its employees timely and full payment of salary during СOVID-19 crisis.
No staff layoffs or introduction of part-time employment.
Introduction of safe work environment ― almost 90% of the HO employees were switched to teleworking. At the same time, we ensured safe working conditions to specialists who remained working in the office and outlets, specifically provided them with masks, sanitizers, corporate transport, and established adequate working hours of outlets.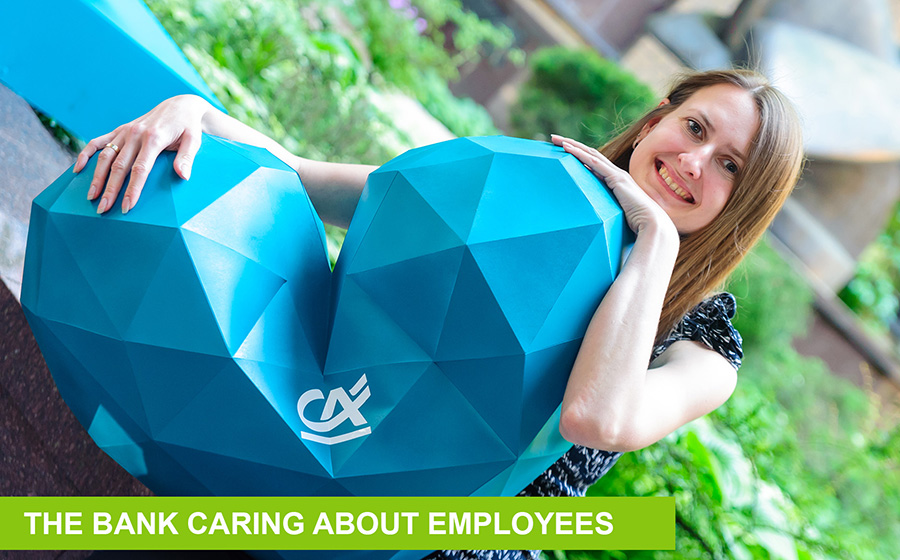 Green initiatives
On March 30, Credit Agricole Bank traditionally supported the global environmental event Earth Hour and presented the Holosiivskyi National Park with 15 000 young pine plants. Employees of the Bank handed them over and helped to plant the young trees. On March 28, as a part of a campaign as well, the lights on facades of several offices were switched off for an hour in solidarity with the Planet.